The Pilot episode of Chicago Fire aired on Wednesday to kick off the show's first season, which hopefully won't be its last.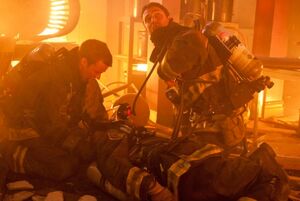 The episode started right in the heat of the action, and before we even learned most of the main characters' names, we witnessed the death of one of the firefighters. We knew something like this might happend, but I didn't think it would be this early. It turns out that Darden's death was needed in the show's storyline to create tension between the two main firefighters, Kelly Severide and Matthew Casey. I guess it "sets the scene" pretty well, but we still have a lot of watching to do if we are ever going to care about these beautiful people in these familiar stories.
Upon being introduced to the sexy paramedic team of Gabriela Dawson and Leslie Shay, a gun is drawn on them by a gangster. Then, after being introduced to rookie firefighter Peter Mills, he heroically tackles the driver who was attempting to escape a horrific car accident. By the end, firefighters Casey and Christopher Herrmann were falling through a floor, becoming trapped in the middle of an inferno. Of course, they were saved, along with some children, and other attempts and drawing the audience into being connected to the characters included the Chief's boxing match, Herrman's hospitalization and foreclosure, and Kelly's drug problem. So, is it working?
How much did the Pilot episode appeal to your emotions?

To be fair, the pathos of the show doesn't ultimately decide how much you liked it, so tell us....
What did you think of the pilot episode?

Please write your own reviews of the Chicago Fire pilot in the comments section below:
Ad blocker interference detected!
Wikia is a free-to-use site that makes money from advertising. We have a modified experience for viewers using ad blockers

Wikia is not accessible if you've made further modifications. Remove the custom ad blocker rule(s) and the page will load as expected.