"Let Her Go"
Season 1, Episode 23

Air date
May 15, 2013
Written by
Story by: Dick Wolf & Matt Olmstead
Teleplay by: Michael Brandt & Derek Haas
Directed by
Joe Chappelle
Runtime
00:43:21
Episode Guide
previous
"Leaders Lead"
next
"A Hell of a Ride"
"Let Her Go" is the twenty-third episode of Season 1 of Chicago Fire.
Events force Lieutenant Casey to team up with the Intelligence Unit, now run by Voight, who doesn't appear to have changed his crooked ways after his stint in prison. Shay's excitement at the prospect of becoming a parent grows, while Mills and Dawson face some personal challenges. Meanwhile, the house comes together to support the opening of Molly's.
While the squad is still reeling from Hallie's death, Herrmann announces that the grand opening of Molly's will now be a memorial service for Hallie. Chief Boden also announces that arson investigators are still analyzing the scene of Hallie's death and that Casey is meeting with the Chicago Police Department to get an investigation rolling. It's a tough day at Firehouse 51.
Meanwhile, Casey heads to the police department to meet with the detectives who are investigating Hallie's death. Voight's team is on the case, but Casey says he doesn't want to deal with anyone but Antonio. Antonio tells Casey that initial investigations suggest that Hallie was killed before the fire was started. Suddenly, a call comes through on the radio.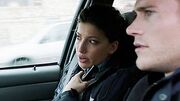 CPD has tracked down the car that fled the clinic fire and they have two suspects fleeing on foot. Two patrol officers give chase and catch their suspects, two drug addicts who bought the car from an unknown seller recently. The CPD's lead detective knows that the vehicle is used to traffic large amounts of drugs. Their murderer is in the drug trade.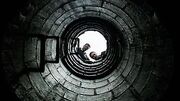 Boden, Casey and Severide head back to the scene of the clinic fire to investigate with the Chicago police. Casey still doesn't trust Voight, but so far Voight seems to be sympathetic to Casey's loss. Inside the ruins of the clinic, Boden notices that the clinic's patient files have been rummaged through. Before they can continue the investigation, Boden and Severide are called in to help a woman who is trapped in a sewer drain.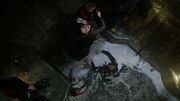 Down in the sewer, Severide finds the trapped woman and he and Boden stage a rescue. They manage to dislodge the woman from the suction of a sewer drain and pull her to safety. Meanwhile, Antonio and his fellow detective question the clinic owner for possible leads in the investigation of Hallie's death. The owner tells them that someone had threatened him in order to obtain prescription drugs.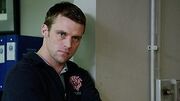 Back at the station, Otis brings his Russian cousin in to help with the grand opening of Molly's. Dawson and Herrmann are worried that Otis is going to spoil the event, but Otis assures them that everything will be fine. Voight and Antonio relay the drug information to Casey, who says that, as far as he's concerned, Voight is the prime suspect in Hallie's murder. Antonio assures Casey that he'll handle it.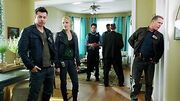 Shay and Dawson are called to the scene of a gunshot accident where a nurse has been shot in the stomach. The victim is dead when they arrive on the scene, but Dawson discovers that the nurse worked at Hallie's clinic. Someone's taking out clinic nurses one-by-one. Meanwhile, Shay and Severide head to the clinic for Shay's fertilization procedure and Dawson, Otis and Herrmann continue to prep the bar for their grand opening.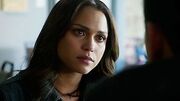 Dawson meets with Mills at a cafe. Their relationship has been cold ever since Dawson broke the news to Mills about Boden and his mother. During their meeting, Mills tells Dawson that he needs some time apart. Just like that, Dawson and Mills break up. Meanwhile, Voight learns from his street contacts that a local drug dealer was procuring prescription pills from the clinic owner.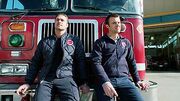 Severide consoles Casey by offering him a cigar. Outside, Casey vents to his old friend and Severide does his best to put his friend at ease. Antonio stops by the station to solicit Casey's help in setting up a sting operation against the clinic owner. Casey needs to tell the owner that he knows he's been dealing prescription pills on the side and that he needs to know the name of the owner's drug connection. Casey agrees to the operation.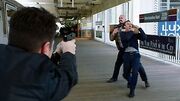 Later, Casey enters the clinic with an army of police officers surrounding the building. Before Casey can get into the owner's office, gunshots ring out. The clinic owner has been killed by his drug connection. Casey chases the shooter onto a train. At the next train stop, the suspect holds Casey at gunpoint. Voight shoots the gunman in the head, killing him instantly and saving Casey's life.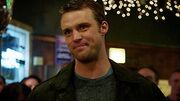 That evening, Voight meets with a mysterious official who tells Voight to keep pretending he's a dirty cop so that they can catch some of the city's most ruthless drug kingpins. Meanwhile, the Firehouse 51 crew meets at Molly's for the bar's grand opening. At the gathering, Casey shares some of his fondest memories of Hallie. Everyone is heartbroken, and they need each other now more than ever before.
Guest Stars
Edit
Christopher Cousins as Steven Goody
Jason Beghe as Sergeant Hank Voight
Jon Seda as Detective Antonio Dawson
Kelly Blatz as Officer Elam
Melissa Sagemiller as Detective Julia Whillhite
Ora Jones as Mrs. Leppert
Scott Eastwood as Officer Jim Barnes
Tania Raymonde as Officer Nicole Sermons
J.B. Smoove as Sergeant Pruitt
Larisa Polonsky as Zoja
Robin Weigert as Woman in Car
Co-Guest Stars
Edit
Allison Latta as Esther
Grace Etzkorn as Sophie
James Zoccoli as Tim Campbell
Michael Goldberg as Gary
Parker Mack as Mike Duffy
Randy Flagler as Capp
Chuck Quinn as Delivery Man
David Aron Damane as Maurice
Laroyce Hawkins as Atwater
Mia Park as Nurse
Phil Pritchard as Stanley Cup Keeper
Philip Earl Johnson as Greg Duffy
Rian Jairell as Freddy
Sam Bailey as Receptionist
Shaun Licata as Denise
Uncredited
Edit
Image
Title
Writer(s)
Director(s)
Airdate
#
[[Pilot]]
Writer: Michael Brandt and Derek Haas
Director: Jeffrey Nachmanoff
October 10, 2012
#1x01
Firehouse 51 tries to recupperate after a tragic loss of one of their own. The death of Andy Darden causes a rift in Matthew Casey and Kelly Severide 's friendship as they put the blame on each other. They are forced to settle their differences when one of their collegue, Christopher Herrmann , is in the risk of losing his life. Paramedic Gabriela Dawson runs into trouble with her career after trying to save a girl by doing a risky procedure on the field. Peter Mills reports to Firehouse 51 for his first duty as a Firefighter/EMT Candidate. Matthew Casey tries to sort out his bruised relationship with his fiancée, Hallie




[[Mon Amour]]
Writer: Michael Brandt and Derek Haas
Director: Tom DiCillo
October 17, 2012
#1x02
Lt. Kelly severide struggles with an ongoing shoulder injury as he tries to save a construction worker in a collapsed buidling. Still consumed with guilt over colleague Andrew Darden's death, Casey finds out that Darden's widow also blames him for the tragedy. The team rescue two teens trapped in a car and Casey and Hallie have more problems in their shaky relationship.




[[Professional Courtesy]]
Writer: Matt Olmstead
Director: Joe Chappelle
October 24, 2012
#1x03
Lieutenant Casey is forced to make a difficult decision about whether or not he wants to report bad-cop's Detective Voight's son for DUI. Kelly Severide finally makes an appoinment to see the doctor about his injured arm which turns out to be a fractured vertebra. Peter Mills finds that sharing his time between his mom and her restaurant and his own job difficult.




[[One Minute]]
Writer: Andrea Newman
Director: Gloria Muzio
October 31, 2012
#1x04
Chief Boden is accused of leaving a homeless man to die in a warehouse fire after ordering his men to evacuate the scene, creating negative press and bad feeling within the department. Meanwhile, Lieutenant Severide helps an elderly woman facing some neighborhood problems. Detective Voight ramps up his intimidation tactics aimed at Casey in an attempt to discourage him from testifying against his son. Shay is forced to revisit her heartbreak over her ex-girlfriend Clarice, when she finds herself face-to-face with the ex and her husband during a all. Herrmann's temper flares during a rescue call at a Halloween block party.




[[Hanging On]]
Writer: Marc Dube
Director: Jean de Segonzac
November 7, 2012
#1x05
Casey fights back against Det. Voight and ends up dealing with the repercussions, Dawson faces disciplinary action due to on the job conduct, and Severide's arm fails during a rescue on a roof.




[[Rear View Mirror]]
Writer: Thania St. John
Director: Joe Chappelle
November 14, 2012
#1x06
Facing suspension, Dawson gets a hand from the same girl she saved through the procedures that landed her in front of the disciplinary board.




[[Two Families]]
Writer: Michael Brandt and Derek Haas
Director: Michael Slovis
November 21, 2012
#1x07
Everyone in the firehouse is ordered to take a drug test after a call to a daycare center exposes them to a makeshift meth lab, and Severide stalls, not wanting his injury, or the painkillers he takes, to be discovered. Meanwhile, Truck and Squad find themselves pinned down by gunfire while trying to help the victim of a gang shooting, and a deep-fried turkey fire grows from small to explosive when a garage catches fire. Elsewhere, Dawson saves a bleeding man and Casey delivers a baby on the scene of a massive car pileup on the freeway.




[[Leaving the Station]]
Writer: Bryan Oh
Director: Constantine Makris
December 5, 2012
#1x08
At the site of a train accident, Peter Mills becomes deeply upset when he observes the dead body of a young victim. Unable to shake his emotional distress about the event, he questions his future as a firefighter. Dawson and Shay save a 6-year-old girl whose mother is abusing her -- but their confrontation leads the woman to resort to dire actions. Meanwhile, Severide aggravates his injury while rescuing a heart attack victim and Shay sends Clarice, her married, pregnant ex-girlfriend, back home to her husband.




[[It Ain't Easy]]
Writer: Hilly Hicks, Jr.
Director: Tom DiCillo
December 12, 2012
#1x09
After he's injured in a terrible fire at an auto machine shop, Jose Vargas is forced to go on disability and leave his life as a firefighter behind - a task he finds incredibly difficult. Chief Boden tries to help a suspected teenage firebug. Also, Severide receives an enticing invitation from Renee, a woman who he saved from a car crash incident involving live electrical wires. Meanwhile, Cruz tries to save his younger brother Leon from the gang he is involved with.




[[Merry Christmas, Etc.]]
Writer: Michael Gilvary
Director: Steve Shill
December 19, 2012
#1x10
After putting out a kitchen fire in an upscale townhouse, Casey, Herrmann, Mouch, Cruz, Otis and Mills find themselves accused of stealing a $50,000 diamond necklace from the home, touching off an internal investigation. Cruz's brother Leon is caught in the middle of an escalating gang war, leaving Cruz to make a desperate choice to save him. Meanwhile, Dawson invites Casey to her cousin's fancy Christmas party, and a frustrated Shayhas reached her limit with Severide.




[[God Has Spoken]]
Writer: Andrea Newman and Marc Dube
Director: Dan Sackheim
January 2, 2013
#1x11
Eaten up by his guilt over Flaco's death in the fire, Cruz goes to Casey to confess. While Shay recovers from a head injury sustained in the ambulance crash, Severide asks Dawson for her help in dealing with his own injury. Casey is caught in the middle of a family conflict between his mother and sister. Elsewhere, Herrmann finds a business deal hard to stomach.




[[Under the Knife]]
Writer: Matt Olmstead and Ryan Rege Harris
Director: Alex Chapple
January 9, 2013
#1x12
Severide finally addresses Chief Boden about his injury and makes some important personal decisions about his future. Meanwhile, Casey struggles with family matters and Dawson takes matters into her own hands when she discovers a young girl who is the sole survivor at the scene of a rescue call.




[[Warm and Dead]]
Writer: Michael Brandt and Derek Haas
Director: Alik Sakharov
January 30, 2013
#1x13
A troubled Chief Boden goes to the police when a man dies in a hardware store fire set by Ernie, the troubled teenage firebug he's been trying to help, and his Uncle Ray. Meanwhile, Severide decides on his future and reaches out to his father. Elsewhere, Otis finds camaraderie when he fills in for a few shifts at the slowest firehouse in the city, and makes a decision of his own, while Dawson and Shay find themselves in a bad predicament during a call to a tenement apartment.




[[A Little Taste]]
Writer: Matt Olmstead and Hilly Hicks, Jr.
Director: Arthur W. Forney
February 6, 2013
#1x14
Severide finds that he shares a familiar past with Eric Whaley, the Lieutenant who was brought into the firehouse to help out. Dawson lets Shay in on her secret, while Casey deals with family issues. Meanwhile, a bad batch of heroin on the streets has Boden and the team scrambling, while Clarice and Shay find they have a new problem to overcome.




[[Nazdarovya!]]
Writer: Andrea Newman
Director: Joe Chappelle
February 13, 2013
#1x15
Dawson attempts to help her brother Antonio unravel the details of his drugs-and-gang investigation, and goes behind his back in turning to an unlikely source for assistance. Casey and his mother, Nancy struggle with their new relationship. Meanwhile, as a favor to Lieutenant Whaley, Severide visits someone important from his past, while Herrmann and Otis learn some hard truths about their "silent partner" in the bar.




[[Viral]]
Writer: Michael Gilvary
Director: Michael Brandt
February 20, 2013
#1x16
The anguish that haunts Cruz over his previous actions boils over, as he puts himself and his fellow firefighters in jeopardy. Casey and his sister Christie try to solve their issues with their mother and each other. Meanwhile, Severide reaches out again to an important person from his past as a favor to Lieutenant Whaley and the squad gains new perspective after assisting the bomb squad on an extremely dangerous call.




[[Better to Lie]]
Writer: Matt Olmstead and Ryan Rege Harris
Director: Joe Chappelle
February 27, 2013
#1x17
Old emotional wounds are opened when Lieutenant Severide's father Bennie comes to town and clashes with Chief Boden over the death of their former colleague. Mills helps a distraught driver who caused an accident and Shay makes a decision about her future with Clarice. Meanwhile, Herrmann, Otis and Dawson (Monica Raymund) get to the bottom of a mystery about their bar.




[[Fireworks]]
Writer: Tim Talbott
Director: Karen Gaviola
March 20, 2013
#1x18
With tensions still running high between Chief Boden and Bennie Severide, things boil over when Mills confronts Bennie about the fire that killed his father. Meanwhile, Severide, Casey and Bennie uncover the truth behind two mysterious diner fires and Shay takes a new direction with her plan to have a baby.




[[A Coffin That Small]]
Writer: Story by: Steve Chickerotis Teleplay by: Michael Brandt & Derek Haas
Director: Darnell Martin
March 27, 2013
#1x19
Tragedy strikes when a rescue attempt at a tenement building proves unsuccessful, leaving the men and women of firehouse 51 affected by the loss of the victim. Severide's decision to put Mills on the fast track to move from Truck to Squad doesn't sit well with some of the others and tension mounts between Severide and Casey over Heather Darden. Shay and Dawson are forced to deal with a junkie's crazy behavior while on a call and Shay considers a different way to have a family. Meanwhile, the team draws the ire of local drug dealers who threaten the peace and safety of the neighborhood and firehouse.




[[Ambition]]
Writer: Andrea Newman and Michael Gilvary
Director: Arthur W. Forney
April 3, 2013
#1x20
Mills finds himself the target of resentment from some colleagues when Severide supports his desire to join Squad. Tara, a paramedic candidate, joins Dawson and Shay on the job for a few shifts. Meanwhile, Shay comes to the aid of Cindy Herrmann, who suffers from pregnancy complications while her husband Christopher is out of town. Elsewhere, Dawson and Casey draw closer as the grand opening of Molly's draws near, and Casey receives a surprise visit.




[[Retaliation Hit]]
Writer: Matt Olmstead and Hilly Hicks, Jr.
Director: Jean de Segonzac
May 1, 2013
#1x21
Detective Voight returns, looking to collect on the favor that Dawson owes him for helping her brother, Antonio. Casey falls back into old patterns in his personal life, while Dawson, Herrmann and Otis become the proud owners of a real neighborhood bar as Molly's prepares for its grand opening.




[[Leaders Lead]]
Writer: Dick Wolf & Matt Olmstead
Director: Mike Slovis
May 8, 2013
#1x22
A frustrated Severide, turns to an unlikely ally to resolve his current dilemma. Casey begins to find satisfaction in his personal life, while Mills and Dawson face personal challenges. Meanwhile, the squad is called to the scene of a harrowing apartment building collapse.




[[Let Her Go]]
Writer: Dick Wolf & Matt Olmstead
Director: Joe Chappelle
May 15, 2013
#1x23
Events force Lieutenant Casey to team up with the Intelligence Unit, now run by Voight, who doesn't appear to have changed his crooked ways after his stint in prison. Shay's excitement at the prospect of becoming a parent grows, while Mills and Dawson face some personal challenges. Meanwhile, the house comes together to support the opening of Molly's.




[[A Hell of a Ride]]
Writer: Andrea Newman and Michael Gilvary
Director: Alex Chapple
May 22, 2013
#1x24
When a call comes in from the Cook County jail, the squad steps into a volatile predicament and are tasked with trying to defuse an escalating situation. Shay remains hopeful about her baby dreams and Hermann's wife Cindy goes into labor with their fifth child. Meanwhile, Mills and Dawson face key decisions in their personal lives.



References/Sources
Edit
Ad blocker interference detected!
Wikia is a free-to-use site that makes money from advertising. We have a modified experience for viewers using ad blockers

Wikia is not accessible if you've made further modifications. Remove the custom ad blocker rule(s) and the page will load as expected.